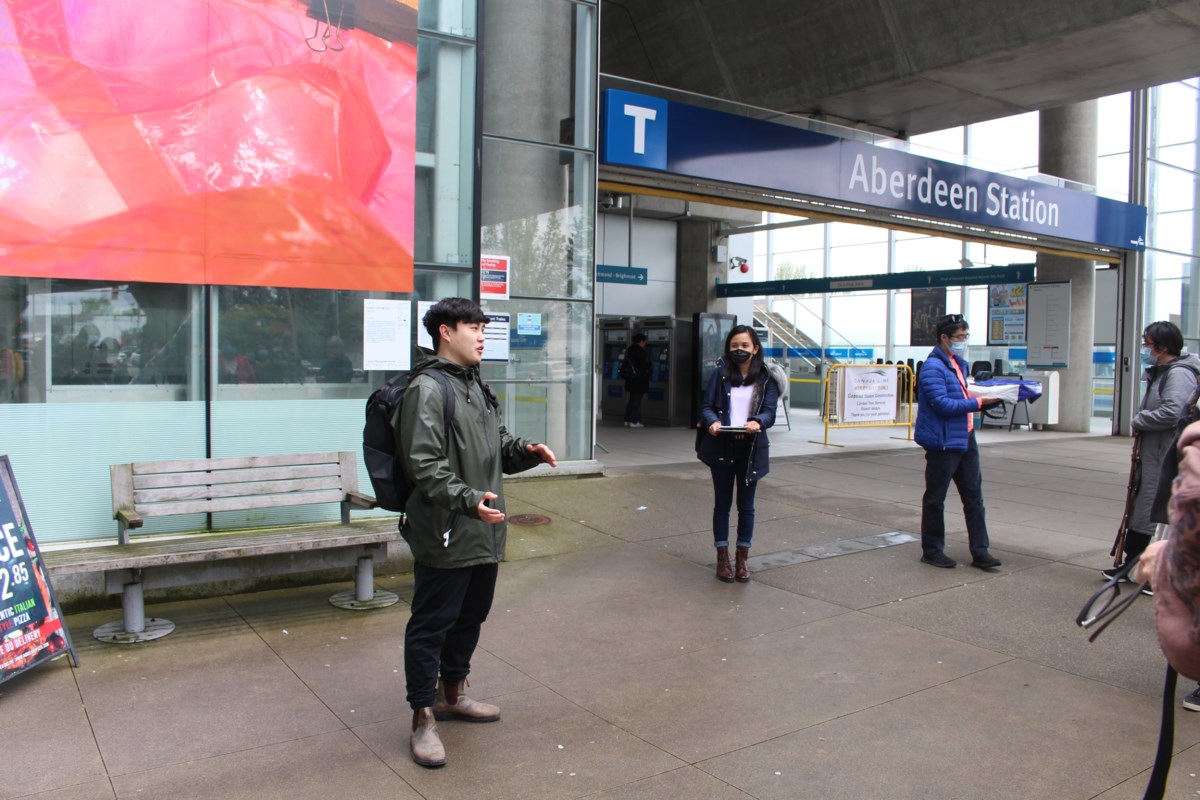 Walking tour connects Richmond artists and locals to public art
Three artists introduced participants to their exhibits along the Canada Line.
This weekend, residents of Richmond were able to learn more about the works of art displayed outside Aberdeen and Lansdowne stations, and the artists who created them.
The free walking tour was part of the 2022 Capture Photography Festival and featured artists Chad Wong, Adriele Au and Kyla Bourgh.
The tour kicked off with Wong's installation titled Empty spaces that fill my heartwhich captured spaces in Richmond and Chinatown symbolic of the Chinese-Canadian experience.
Wong is a second-generation immigrant, and his installation was prompted by his feelings about the 2019 protests in Hong Kong and his desire to preserve declining spaces that contribute to his cultural identity.
The idea of ​​home and belonging is also at the heart of Au's pieces on display in Road Art Column No. 3 – I'm a thousand years old, Double Puddluv 1 and Puddluv Wave 2.
Au gave attendees a glimpse of her idea of ​​home through her childhood photos, and she also brought a sample of her designs using festive crepe paper for attendees to see. puddluv three-dimensional parts.
Au hopes to challenge our perception of the objects we have in our homes and lives, and explore the ambiguity of the concept of home and the objects that represent home.
The visit concluded with Bourgh's installation, which challenged another type of perception. Bourgh's installation is titled Items given to my mother because she is Asianfeaturing her mother's collection of diverse objects from a myriad of cultures.
Bourgh's work has been inspired by her experiences of being in the midst of different cultures, and she hopes to address the hidden aspects of discrimination by revealing what is common and happens daily.
Despite the diversity of themes and mediums, the three artists shared a common goal: the desire to create art that was easily accessible and offered a space for reflection.
"Public art makes you look up and ask questions," Au said.
Wong and Au's work is at Aberdeen Station, while Bourgh's is at Lansdowne.