twelve chalets scattered in the alps become the hotel peterhof alpe furx
an alpine hotel on the Austrian slopes
Speckled on the slopes of Austria's Alpe Furx ski resort sits a new Hotel Peterhof by Baumschlager Eberle Architekten. The group of twelve chalets is presented as the replacement of a pre-existing hotel, offering tranquility and privacy all with the contemporary warmth of wood. These private wooden chalets are grouped around a main building which houses a place for gathering and social interaction between visitors.
When designing its resort, the team paid attention to its treatment of the terrain and the relationship between the structures. The chalets are organized in three groups of four, and laid out in a way that seems dispersed and natural. Each chalet is designed to a basic template, which the team describes as 'use reflection and layering to add variety based on position and driveway.'
all images © Albrecht Immanuel Schnabel (unless otherwise stated)
the framed views of the peterhof alpe furx
The main building of Hotel Peterhof Alpe Furx is curated by Baumschlager Eberle Architekten (see more here) with carefully framed views. Inside, visitors look out to mountains and valleys, a nearby chapel, and winter ski slopes. This larger building is tucked into the landscape below the chalets to best preserve those views for the private spaces. The occupants will have a breathtaking view of the alpine landscape at every moment of their stay.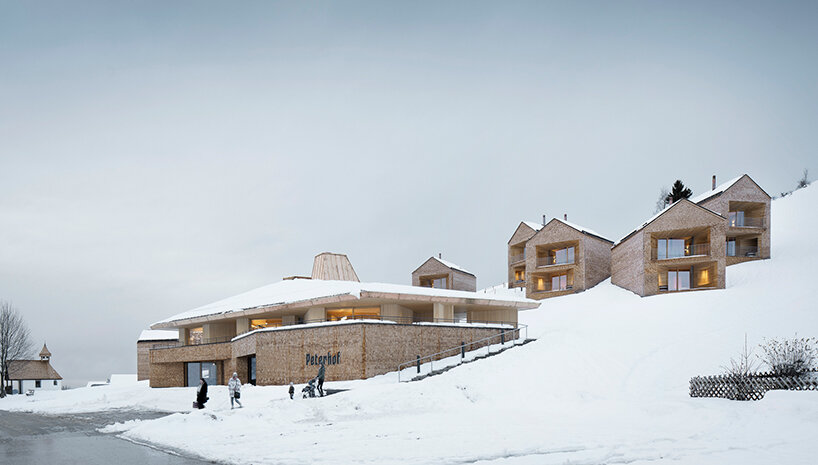 wood finish, interior and exterior
Hotel Peterhof Alpe Furx is finished inside and out with exposed wood. The two-storey chalets are clad from top to bottom with larch shingles and nestle into the mountainside. Inside, a large bay window on each floor offers views of the surrounding countryside, while a skylight even frames views of the skies above. The interior of the entire hull is clad in light silver fir, creating a warm contrast with the outer skin, as is the furniture, crafted in black stained ash, and maple.
The restaurant building echoes these materials with its silver fir interior, solid concrete core with black trowel finish, maple and black stained ash. The chalets each have one bedroom, a large living and dining area with a kitchen and wood burning stove, sauna and outdoor hot tub. The two floors of the main building face west in a welcoming gesture, while the restaurant and terrace accommodate 120 seats.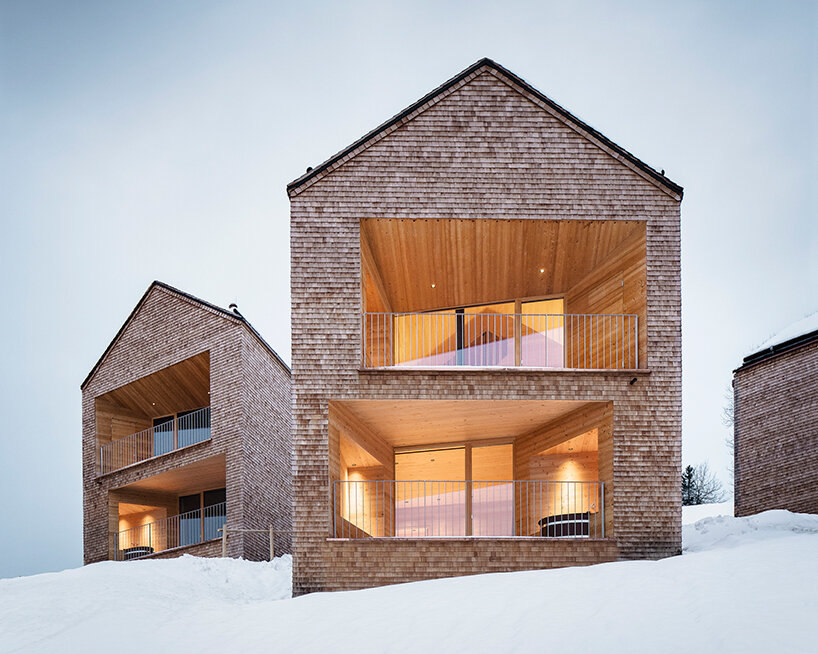 each chalet favors framed views of the vast alpine range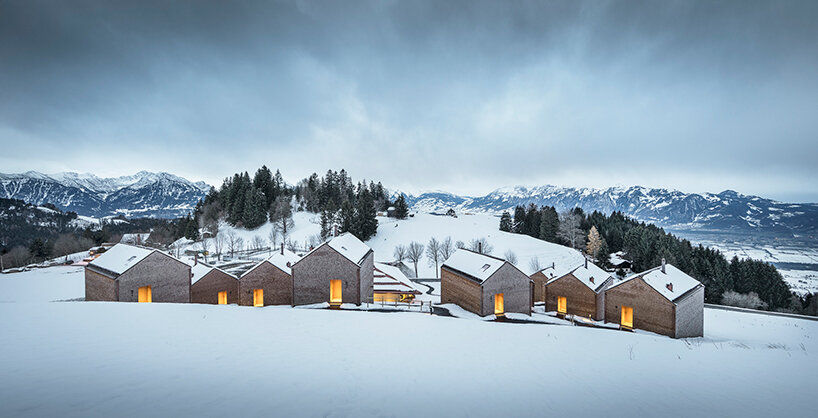 the private cabins are organized in three groups of four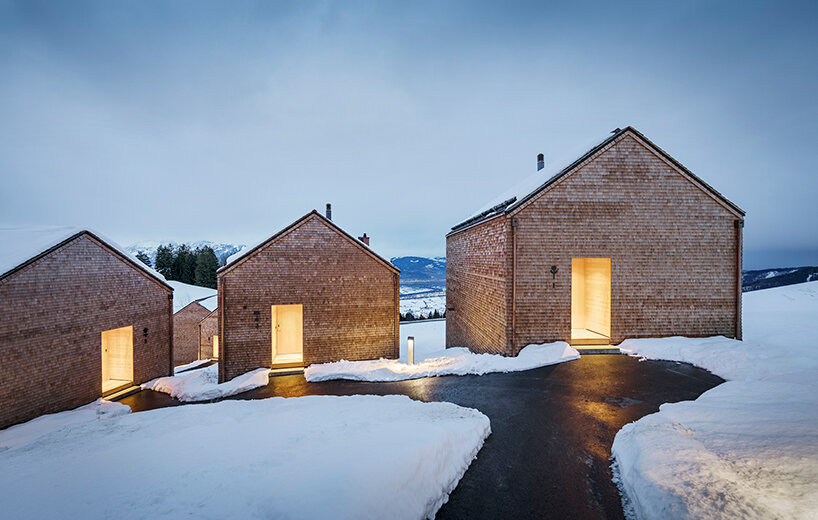 the exteriors are finished in larch shingles from top to bottom