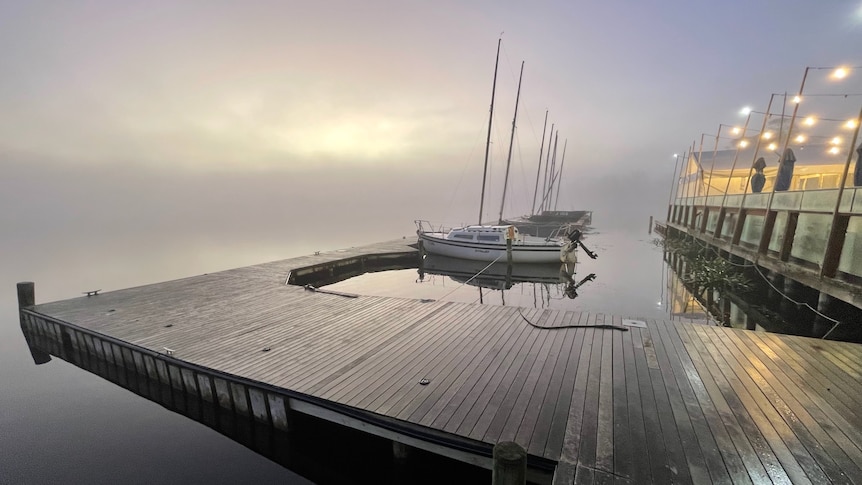 Smartphone Photography Tips for Taking Winter Photos That Shine, Despite Low Light
Dark, dreary, dull – all the words you could reasonably use to describe winter.
But there's no reason for your winter photos to be dark, dreary or boring, even if you're using a modest cell phone.
While spring and fall offer vibrant colors, and summer is alive with brightness and activity, winter has its own charms for the amateur photographer.
That's especially true for those ready to embrace their artistic side, according to freelance photographer Jeremy Bannister.
"Every season really has its pros and cons, and that includes winter," says Bannister, from Ballarat in Victoria.
"In winter, I look for this monochrome sensation as a strength, not a weakness.
"Once you have black and white, all the spot colors in the photo really stand out. You can get that gorgeous effect where the color looks more powerful than it normally would.
Professional photographers use specialized cameras with larger, better lenses to make the most of all available light.
However, cell phone cameras continue to improve and can now take effective photos even in low light conditions. It just takes more care and planning.
Framing is key
A steady hand is important when light levels are low.
Camera phones will automatically increase the exposure time to compensate for the lack of light, which means any movement will be exaggerated.
Bannister suggests bracing your phone against a sturdy object to help keep things sharp.
A great photo, whatever the season, starts with the right "framing". This means looking at the background as well as the main subject of the photo and placing the subject in the photo for maximum impact.
Bannister says using the contrast of dark and light in the background and foreground can make your winter photos "pop".
"You're looking for silhouettes to get black," he says.
"It could be a tree, or a mountain, or a building, like an old church, for example. Your phone will naturally increase the light behind those objects and make them appear darker.
"It can also work the other way around. A dark background will make something in the foreground look lighter and brighter.
"Some great photos are all about the right time and place. Some of them can't be planned, like a brief break in cloud cover. So take multiple shots as the light changes."
The position of the sun, even if it is partially covered by clouds, is an essential part of the framing process.
Shooting in the direction of the sun will make everything in the foreground darker, however, shooting in the general direction of the sun can be effective if you follow certain rules.
"When you're shooting towards the sun, you need to fill the frame with the landscape, not the sky," says Bannister.
"You can also shoot away from the sun, in which case you can use more sky and you can also use longer shadows."
Fix it in 'post'
Usually, you don't have to worry too much about changing the camera settings on a phone before you take your shot. Normally, a phone camera automatically focuses on what's in the foreground and adjusts its own settings accordingly.
If it is necessary to change things, it can happen later.
"A lot of the adjustment comes down to post-production," says Bannister.
"Whether you do it on the computer or even on the phone itself, there are plenty of tweaks or improvements you can make."
Once you have taken your photo, your smartphone will have some editing settings. Not all will be useful, and some may take away from the natural "winter" feel of the original image.
However, there are others that will work to your photo's advantage, making them look sharper and clearer.
There are usually sliding bars where you can adjust the levels and find the amount that works best for you.
"The first adjustment to look at is contrast. You'll usually want more contrast in dull lighting," says Bannister.
"Shadows are another setting that you can use, as well as highlighting, to increase that differentiation between light and dark.
"You can use the saturation setting to increase or decrease the intensity of the photo.
"Usually amateur photographers exaggerate the saturation. It will look fake. These photos are unnaturally colorful and it doesn't look like winter.
Winter Photography Tips
Morning mist is one of the best things about winter – trees appearing through the mist look ghostly
The frost on the plants is spectacular, so get down and shoot low
Close-ups of nature, such as droplets on spider webs and winter flowering plants, really pop against the duller winter light
Change your shooting position, shoot low and remember to always fill the frame
Sunrises can be spectacular in winter: use the exposure compensation function to correctly expose the light of the sky and obtain full colors (touch on the screen the place from which you want to measure the exposure)
Desaturate or partially desaturate to emphasize cold and dreary landscapes, to emphasize the season
Embrace the long afternoon shadows cast by the low sun
Footsteps on frozen grass can be very effective
— Jeremy Bannister, Freelance Photographer